It is safe to say that pampering your palate is one of the most exciting aspects of travel. Tasting new spices and diving into foods with names you can hardly pronounce it's all part of the exprience as a tourist in a foreign country. 
To help you plan a delicious culinary trip of your own, here's a list of five Colombian dishes not to be missed.
Ajiaco
Where to eat it: Bogotá, Cundinamarca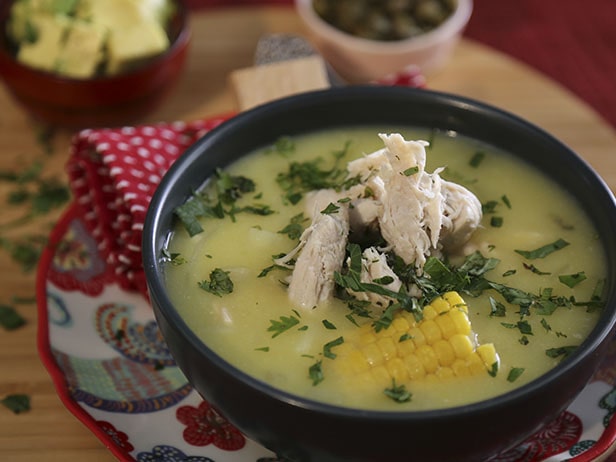 This Colombian thick soup will not only make your mouth water, but will also make your stomach happy. It's typically made with chicken, potatoes and 'guasca'- a Colombian herb. Ajiaco is served with shredded chicken on top and a small steamed or boiled corn.
Recommended: Add some sliced avocados, capers and a bit of heavy cream to delight your taste buds even more. 
Price: 20,000 - 25,000 COP (6 USD/670 JPY)
Sancocho
Where to eat it: Ginebra, Valle del Cauca; Nariño; Caribbean Coast; Antioquia 
Unlike ajiaco, 'sancocho' is a clear soup. Depending on the region you're visiting, you can either get a pork, beef, chicken or fish 'sancocho'. Apart from the protein, diced potatoes, plantains and cassavas are used to cook the soup. It's served with a small steamed or boiled corn and fresh cilantro leaves.
Price: 20,000 - 25,000 COP (6 USD/670 JPY)
Bandeja Paisa
Where to eat it: Medellín, Antioquia; Coffee Region (Caldas, Quindio, Risaralda)
If you're a big eater or just happen to be really hungry, then this is the perfect dish for you! It's a generous dish composed of red beans served with pork, white rice, powdered meat, 'chicharrón', a fried egg, sweet plantain, 'chorizo', 'arepa', and avocado. If that's not enough, you can ask for the 'extended bandeja paisa', which comes with, besides the previous ingredients, a grilled steak or grilled pork.
Price: 25,000 - 35,000 COP (8.6 USD/930 JPY)
Pescado Frito
Where to eat it: Pacific and Caribbean Coast
'Pescado frito' means fried fish in English. This is a typical and very popular dish of the Colombian coast. Here are some of the varieties of fish you can find: tilapia, sea bass, red snapper and swordfish. This delicious dish is served with coconut rice, 'patacón' -fried green plantain - and a tomato, onion and lettuce salad.
Recommended: Add some fresh lemon juice to the fish and get yourself a cold lemonade to accompany your dish. 
Price: 25,000 -30,000 COP (7.4 USD/800 JPY)
Ternera a la Llanera
Where to eat it: Los Llanos Orientales, Meta 
This is a barbecue from the Colombian grasslands. The veal meat is seasoned with beer, salt and spices. It is then attached to either wooden or metal stakes, and grilled slowly in wood fire. This dish also goes by the name of 'Mamona'. 
Price: 15,000 - 25,000 COP per portion (6 USD/670 JPY)
Hope you're hungry enough to take on the challenge of trying all these flavorful Colombian dishes. Enjoy every single bite and hopefully you'll say...
¡Viva Colombia!
... and its delicious food!
If you want to know about Colombia's best street food, follow this article:  
oriana-van-beem.hatenablog.com