Trying new flavors is one of the most exciting aspects of travel. When it comes to street food, Colombia has a lot to offer. To help you plan a culinary trip that'll pamper your palate, here's a list of seven delicious Colombian street foods you must try!
Empanadas
Where to eat it: Valle del Cauca, Pacific and Caribbean Coast 
The Colombian empanada is the sum of two things: the crust and the filling. The crust is made of corn flour, and for it to be a success, it must be crunchy! The filling varies from one region to the other. It can be either potatoes, shredded meat, peanut paste or fish.
I must say that this is probably my favorite Colombian street food. I'm happy my husband shares the same love for empanadas as I do. Don't leave Colombia without trying them. 
Recommended: Accompany them with the traditional sauce 'ají', which is made from tomatoes, scallions, cilantro, lemon and crushed red peppers. 
Price: 800 - 1,000 COP per unit (0.25 USD/27 JPY)
Pandebono
Where to eat it: Valle del Cauca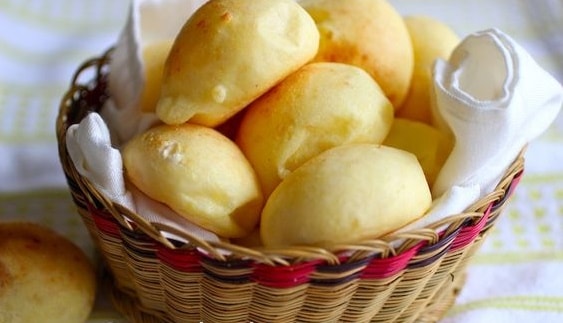 This Colombian rounded 'bread' is probably the best complement to your breakfast or your afternoon coffee. It's made of corn flour, cassava starch, cheese, eggs and milk.
Recommended: Eat it as soon as it comes out of the oven! It's delicious! 
Price: 400 - 600 COP per unit (0.15 USD/16 JPY)
Chicharrón
Where to eat it: Antioquia, Córdoba, Valle del Cauca, Caribbean Coast 
Chicharrones are made by frying pork skin with meat attached to it. You can have them either as an afternoon snack, along with boiled potatoes, or as a side dish at a restaurant.
Price: 5,000 - 10,000 COP (2.5 USD/270 JPY)
Chorizo Santarosano
Where to eat it: Santa Rosa de Cabal, Risaralda
Eager to eat some 'chorizo' but decided not to because it's too much fat? Well, I've good news for you! Unlike the regular chorizo, this pork chorizo is low in fat and excellent in taste. Just give it a try, it's the best!
Recommended: Add some fresh lemon juice to your 'chorizo'. 
Price: 2,500 - 3,000 COP per unit (0.74 USD/80 JPY)
Arepa
Where to eat it: All around the country
Colombia has around 75 different forms of preparing 'arepas'. Amazing, right?
Arepas are made of ground corn dough or cooked flour and they are eaten daily in Colombia!
Depending on where you go, they can be either filled with eggs, meat or cheese. They are sold at supermarkets, in cafeterias, neighborhood stores and by street vendors. 
If you're looking to try a freshly grilled arepa, just find a bakery near your place. If you want to prepare them at home for breakfast, you can buy frozen ones at supermarkets. 
Price: 1,500 - 2,000 COP per unit (0.50 USD/53 JPY)
Aborrajado
Where to eat it: Valle del Cauca 
The 'aborrajado' is a Colombian side dish more than a 100 years old. It's basically a fried ripe plantain stuffed with cheese. The best part of it is finding the melting cheese as soon as you start eating it. It is a simple but delicious side dish!
Baked or grilled plantains are also common, but they do not carry the same name.
Price: 3,000 - 5,000 COP per unit (1.25 USD/130 JPY)
Patacón
Where to eat it: Valle del Cauca, Antioquia, Caribbean Coast 
The 'patacón' or how we like to call it in Colombia, 'patacón pisao', is made from green plantains. The plantain is peeled and cut into slices. The slices are fried once for just a couple of minutes and then are pounded flat and fried a second time. The result is this delicious appetizer or side dish.
Recommended: Ask for the traditional sauce 'hogao', which is made from tomatoes, onions and garlic. It's a must to eat the 'patacón' with this sauce.
Price: 8,000 - 10,000 COP (2.5 USD/270 JPY)
Don't wait any longer to try all of these street foods! If you love them as much as I do, just say...
¡Viva Colombia!
... and its delicious street food!
If you want to know about Colombia's best main dishes, follow this article:  
oriana-van-beem.hatenablog.com