Pablo Escobar was born on December 1st, 1949 into a humble family. His mom was a school teacher and his dad was a farmer. 
Escobar started his career as a criminal from a very young age. When he was just a teenager, he started getting involved in the sale of contraband cigarettes and fake lottery tickets. He also participated in vehicle theft.
Pablo Escobar was an ambitious person. He used to say to his friends that he would be millionaire by the age of 22. 
He had a very though policy which he called 'plata or plomo' (money or bullets). This basically meant that authorities should accept his money in exchange of a free pass to smuggle drugs into the U.S, otherwise, sooner or later, they would be murdered. In other words, accept money or face bullets. 
In 1982, Escobar made his way into politics. He was elected as a member of the House of Representatives in the Congress of the Republic of Colombia, but a year later, in 1983, he was expelled after being accused of drug trafficking.
In the early '80s, Escobar started getting involved in the production and commercialization of both marijuana and cocaine. After allying with Gonzalo Rodríguez Gacha, Carlos Ledher and Jorge Luis Ochoa, Escobar founded The Medellín Cartel, an organization that controlled over 80% of the world's cocaine production and 75% of the illicit market of the same drug in the U.S.
The immense wealth Pablo Escobar gained from the profits of the cocaine business (between 25 and 30 billion dollars) turned him into one of the richest men on the world for 7 years in a row, according to Forbes magazine. 
In the mid '80s, Escobar was trafficking around 15 tons of cocaine per day into the U.S. The pilots in charge of smuggling the drug earned as much as 500.000 dollars a day.
About 10% of Pablo Escobar's wealth is said to had been eaten by rats!
He spent roughly 2.500 dollars a month on rubber bands for his cash!
In a bid to polish his image, Pablo Escobar started doing charity work with churches and hospitals. He even built parks and soccer stadiums for the community.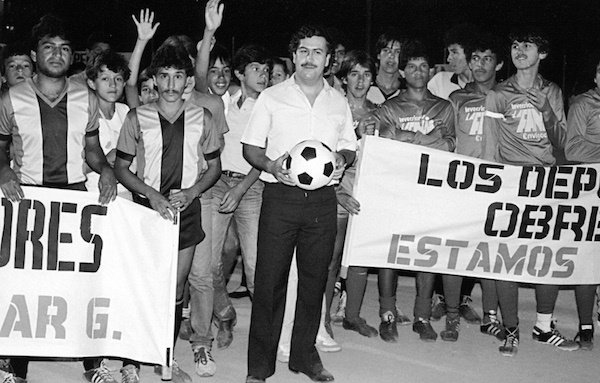 Escobar, Don Pablo (Mr. Pablo) or El Patrón (The Boss), as he was often called, is the responsible for the death of over 4,000 people. This figure includes 200 judges, 1.000 police officers, journalists and people from the government. 
Pablo Escobar built the famous 'Hacienda Nápoles' in the outskirts of Medellín. This place soon became home to exotic animals such as hippos, giraffes, elephants, zebras and ostriches. He built artificial lakes and even a motocross track on this property.
It is said that Escobar once burned 2 million dollars to prevent his daughter from dying of hypothermia while escaping from national authorities through the Colombian mountains.
The biggest fear of the 'King of Cocaine' was extradition to the U.S. Escobar used to say that he would rather die in Colombia than being locked up in a prison in the U.S. His fear towards extradition was so big that he even offered to the Colombian government to pay the country's external debt in exchange of a modification in the country's extradition laws.
In 1991, Colombia adopted a new Constitution and prohibited the extradition of Colombian nationals to the U.S. Pablo Escobar decided to turn himself in on the condition that he would be imprisoned in 'La Catedral', a luxury prison that was built under his command and supervision. The authorities soon realized that Escobar hadn't stopped his criminal acts despite the fact that he was in prison. Therefore, they made plans to transfer him to a high security prison, but before those plans were fulfilled, Escobar made his way out and escape from prison. 
Right after his escape, the Colombian government put in place the so called 'Bloque de Búsqueda' (The Search Bloc), created with the sole objective of apprehending the narco-terrorist, Pablo Escobar. After 17 months of intense search, Pablo Escobar was killed in Medellín at the age of 44 on December 2, 1993 by the members of 'The Search Bloc', after being one of the world's most wanted criminals.
Drugs and Pablo Escobar will always be part of the history of Colombia, but this has not stopped the country from evolving and turning the page around. I'm happy to say that Colombia is today a reborn country.
¡Viva Colombia!